Sail Loot Podcast 032: Rob and Megan's Venture Lives from their Sailboat
By
Teddy
on January 19, 2016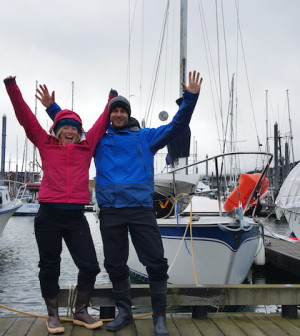 Robert Gabriel and Megan Rose didn't grow up around boats, and their parents didn't teach them to sail. They were both landlocked. Rob grew up in Walla Walla, WA, and Megan grew up in the desert in Idaho. It seems…neither of them wanted to stay there. They wanted to have some adVENTURE in their lives!
Instead Megan spent her time jumping out of perfectly good airplanes, making sure forests didn't burn down, leading a trail crew, summiting mountains, hiking the Pacific Crest trail, and learning how to clean teeth. Rob spent his free time hiking in the forests, playing in the rivers, playing the guitar, designing show posters and album art, biking, and mountaineering. These two probably aren't very good at sitting still.
It wasn't until Rob was in college that he realized that he could live on a boat. It dawned on him that a sailboat could be used as a floating house. When it is time to pick up and move to a new location, he and Megan don't have to pack boxes or get a moving truck because all of their belongings are already on their floating house. The only thing they have to do is hoist the sails and allow the wind to bring them to their next destination for their next adventure.
Take a listen and let Rob and Megan explain how they've done it so far, and what they plan to do in the future!
Podcast: Play in new window | Download | Embed
Subscribe: Apple Podcasts | Android | RSS
A Few Things You'll Learn about Rob and Megan and their Venture Lives in this episode:
Their sailing horizons being opened by YouTube.
Using a sailboat as a "venture vehicle".
Where and when they came up with their plan to live on a sailboat.
What they were doing prior to moving to Juneau, Alaska.
Brainstorming names for Venture Lives.
Their current jobs.
Why Alaska?
Collaboration possibilities with Nautical Channel
Their plan to live adventurous lives for the rest of their lives.
When to head South to Seattle? That is the question.
How much they paid for their sailboat, Turning Point
Moving out of their apartment.
The necessity of being gear nerds in the Northern latitudes.
What they want to focus on.
The Venture Lives motto.
And Much More!
Links and Resources from this episode:
THANK YOU!
Thank you very much for listening to the show! If you enjoyed listening, it has helped you in any way, or you know somebody else that would enjoy it, please share it using the social media buttons that you see on the page.
Additionally, reviews for the Sail Loot podcast on iTunes are extremely helpful and greatly appreciated! They do matter in the rankings of the show and I read each and every one!
Lastly, if you have any questions or comments please leave them below or go ahead and send us an email via the Contact page!
TeddyJ