Sail Loot Podcast 045: Shooting The Breeze about our Sailing Money with Jeffrey Wettig
By
Teddy
on January 31, 2017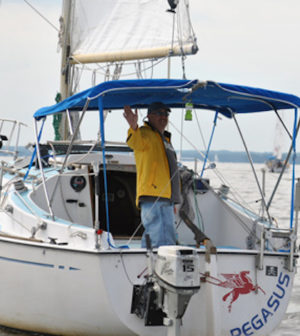 Jeffrey Wettig, host of the Shooting The Breeze Sailing Podcast, and I have been talking via email and Facebook for a few years. We were finally able to meet in person at the US Sailboat Show in Annapolis this past October. I also got to meet his better half, Nora, and share some grub and a few brews with the two of them.
Recently on the Sail Loot Podcast, I've been talking to a lot of people about sailing businesses and very big sailboats. Jeffrey wanted to make sure that I wasn't forgetting about all of the other sailors out there that aren't cruising the islands or starting a charter business. There are thousands of sailors that are working during the week while making sure that they are sailing on the weekends and in the Wednesday night beer can races.
Needless to say, this podcast is a little bit different from a lot of the other Sail Loot Podcasts. Jeffrey and I have become good friends. Therefore, it's a lot like the two of us just sat down to shoot the breeze about our personal sailing finances. I talk a lot more than usual about where I'm at in my process of purchasing a sailboat and Jeffrey explains a lot about how and why he's on his third sailboat, a Paceship 26 named Pegasus.
Podcast: Play in new window | Download | Embed
Subscribe: Apple Podcasts | Android | RSS
A Few Things You'll Learn about Jeffrey Wettig and Shooting The Breeze in this episode:
The Sail Loot episode for non-cruisers
Jeffrey's dream boat and where he stands on the purchase
The possibility of getting a small loan for a sailboat
Purchasing his house
Purchasing his sailboats
When Jeffrey started to sail
Being a member of his yacht club and the associated costs
The costs of maintaining his sailboat
How to sail for free
How you're always learning something new when you go out sailing
Podcasting
Meeting all of the amazing people at the US Sailboat Show and on our Sailing  Adventures
Talking to all of the amazing people that we get to talk to via Podcasting
And Much More!
Links and Resources from this episode:
THANK YOU!
Thank you very much for listening to the show! If you enjoyed listening, it has helped you in any way, or you know somebody else that would enjoy it, please share it using the social media buttons that you see on the page.
Additionally, reviews for the Sail Loot podcast on iTunes are extremely helpful and greatly appreciated! They do matter in the rankings of the show and I read each and every one!
Lastly, if you have any questions or comments please leave them below or go ahead and send us an email via the Contact page!
TeddyJ