Sail Loot Podcast 034: Andy Schell, 59-North Part 1
By
Teddy
on February 2, 2016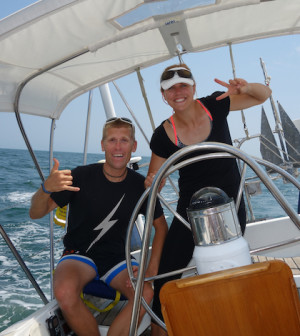 Andy Schell always wanted to be his generation's "John Kretschmer". He and his wife Mia are well on their way to fulfilling that goal. Andy has written some magazine articles and I'm sure that he will one day write a book about his adventures.
All Andy ever really wanted to do was buy a bigger boat and take people ocean sailing. He and Mia recently bought Isbjorn, their Swan 48 – S&S Design sailboat. Shortly thereafter they started making ocean passages, they re-fit the boat, started making more passages, started taking paying customers sailing, and the business was born.
The 59-North podcast was a whole different beast. Andy didn't intentionally put it together as a way to market the sailing business, but it just ended up that the majority of his first passengers have also been 59-North podcast listeners!
It's a long one because Andy is such a great resource for all things sailing, cruising, and Sail Loot related. It's Part 1 because you can find Part 2 of our conversation, where Andy turns the tables on me, over at 59-North. Enjoy!
Podcast: Play in new window | Download | Embed
Subscribe: Apple Podcasts | Android | RSS
A Few Things You'll Learn about Andy Schell, Mia, and 59-North in this episode:
Andy's parents' sailing story.
Andy's first memories as a human being.
Cruising the Bahama's as a child with his family.
Losing a cat.
The Schell's restaurants.
The true visionary of the Schell family
Andy's education.
Andy's Schooner Woodwind Interview and Internship
Why Andy Applied to work for the Navy Morale Wellfare Recreation (MWR) department.
How and when Andy and Mia met.
Changing majors.
Purchasing Arcturus.
Working for BroadReach
Working for World Cruising Club
Podcasting.
Purchasing Isbjorn.
Starting the business of sailing Isbjorn with paying passengers.
And Much More!
Links and Resources from this episode:
THANK YOU!
Thank you very much for listening to the show! If you enjoyed listening, it has helped you in any way, or you know somebody else that would enjoy it, please share it using the social media buttons that you see on the page.
Additionally, reviews for the Sail Loot podcast on iTunes are extremely helpful and greatly appreciated! They do matter in the rankings of the show and I read each and every one!
Lastly, if you have any questions or comments please leave them below or go ahead and send us an email via the Contact page!
TeddyJ