About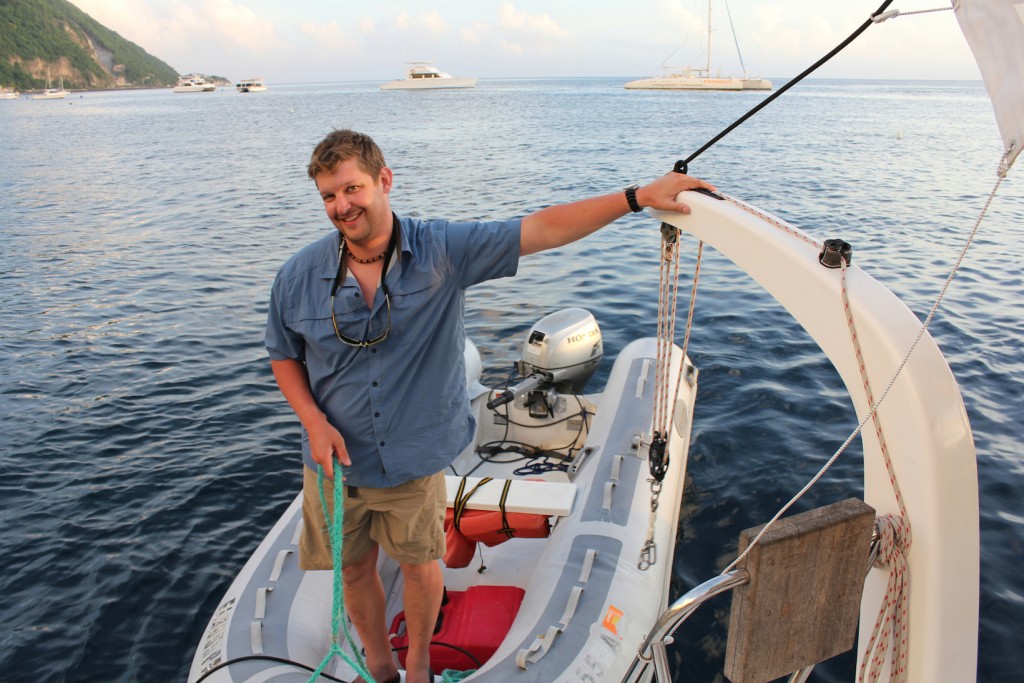 I'm Teddy J. I'm a 37 year old dude from Atlanta, GA that wants to set sail and go cruising to new adventures.
Growing up, my parents had boats at various times. I've been around for 3 of their boats, and we even spent some summer weeks and weekends on one of them in Lake George. They now live on a lake and we use their boat and SeaDo whenever we get a chance to visit.
I've also been sailing a few times, but mainly as a crew member on vacation. I spent 10 days sailing the Bahamas with 2 of my best friends on their Leopard 40. We ended up back in Ft. Lauderdale at the end of that trip, so yes, I've done a night crossing shift or two across the Gulf Stream.
A little over a year later I met those same friends down in Dominica and cruised around Les Saints and Dominica for 10 days.
I have now completed American Sailing Association (ASA) classes ASA 101, ASA 103, ASA 104, and ASA 114! We've got the itch, to say the least.
I've noticed that one of our main questions about cruising, and probably one of the most asked questions by those who want to sail the world, is…how can we afford the cruising lifestyle?
I don't want this website to be all about the money, but I think that there are many answers out there, and that they should be explored.
For example, my two friends went to Georgia Tech with me and had well paying jobs as consultants for several years. They saved their money, put an excel sheet together, and when that cruising kitty cell turned green they took a year long sabbatical to cruise the Caribbean. The great thing is that the companies that they worked for allowed them to do this!
When we were in the Bahamas we met some cruisers that were farmers. They set sail in the off season when they didn't have to tend their crops. We also met some cruisers that do fishing tours.
What we hope to accomplish with SailLoot.com:
Create and Share A Podcast – Hopefully we'll be able to interview people enjoying the cruising lifestyle, or who have in the past, and find out how they found the money to set sail. We will try not to pry. The people that we interview can be as forthcoming with the details of their personal finances as they want. If you're making money while living your cruising dream, then we'd really like to know what you're doing, and how you got into doing it.
Inspire Others (and push ourselves) to turn Dreams into Reality  – We believe that your dreams will vanish if you do nothing about them, and everybody can do something about them. From what we've read, heard, and witnessed, a sailing and cruising lifestyle can be enjoyed on a very limited budget or a very large and extravagant one! Anything is possible, and we'd like to prove it by sharing stories of successful sailing and cruising lifestyles.
Teach Some Online Business and Marketing – I'd like to think I'm fairly smart. I have a Mechanical Engineering degree from Georgia Tech. If there is something that I don't know, then I'd at least like to think that I can do some research, figure it out, and that I'm a quick learner. I've also taken some internet business and marketing classes. I think there is still a whole lot of money to be made online, and I'd like to share some of the lessons and tips that I've learned so that you too can start an adventure cruising the world!
Make some Sail Loot to stash in my cruising kitty – I'm going to be completely open and honest about making some extra money myself with this website. The links to the services and products that I recommend on this site will be affiliate links. That means that I will get a small commission for referring those services and products, but there will be no extra cost to you. In fact, there may even be times when I am able offer some discount codes. You'll get a discount just for using the code that I'll give you, and I'll still get a commission! I honestly don't know why more sailors that have their cruising blogs don't do this. I have to pay for the hosting and url of this site so that I can put up the advertisements and links of my choosing, but that is going to cost me less than $7/month. I am more than glad to click on affiliate links and advertisements on other sailor's web pages when they have them. Why? Because it doesn't cost me any extra money, and I'm glad that the company will send a commission their way and help them keep some wind in their sails! I'm really trying to make the internet a better place, and I'm writing and talking about things that I love. I promise that I won't sell or recommend anything that I don't find useful myself. I'll even share it if it is a useful tool and does not have an affiliate link. I'm just trying to make my own way, and I think that the best way to do that is to help others find a way to enjoy their adventures too!
Document and Share My Own Journey – It starts in a couple weeks with some ASA lessons in the BVI, and I'll be sure to share some pictures, thoughts, lessons learned, and maybe even some videos of this adventure and all of our sailing adventures to come!
Teddy J