Sail Loot Podcast 042: Wiley Sharp, Part 2 – Owning and Operating a Virgin Islands Sailing Charter
By
Teddy
on November 11, 2016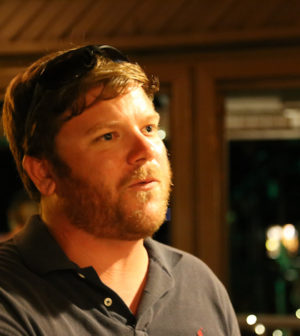 I have now met Wiley Sharp and he's a great guy. We flew into St. Thomas to start our week long sailing vacation on Saturday and decided to stay overnight before jumping on a Ferry to  Tortola on Sunday morning. We met Wiley, his wife, Laura, and Steve and Chrissy from Knot Anchored for some of the best sushi on the island at Enkai Sushi Bar.
We also met with Stacey and Jesse on S/V Smitty and just met up with Peter and Jody from Where The Coconuts Grow last night. Meeting all of the people that have been cruising, and that I've talked to, has been tons of fun. Everybody certainly has a different perpective to share, and tons of knowledge about ways to sustain the boating lifestyle.
Wiley certainly knows the numbers about putting a sailing catamaran into a luxury cruising charter business. In this episode we finally work the numbers backwards and I even asked a few questions about my own personal situation. I promise that I will get you links to the spreadsheets in these show notes very soon. Right now we're moored at The Caves on Norman Island and I just want to jump in the water to check it out, but I had to get the episode out for you.
Podcast: Play in new window | Download | Embed
Subscribe: Apple Podcasts | Android | RSS
A Few Things You'll Learn about working the finances of a Sailing Catamaran Charter with Wiley Sharp in this episode:
Working backwards with the costs of running a sailing catamaran charter for a week.
Broker's fees
Clearing House fees
Yacht Management fees
Crew Pay
Haul Out Fees
Maintenance Fees
Sailboat Depreciation
Can I become owner/operator of my own sailing catamaran charter boat?
Does anybody want to be my Chef/Hostes on my luxury sailing catamaran?
Captain and Crew Certification Requirements
Owning a dog while owning/operating a crewed yacht charter.
Marketing the sailboat and a crewed yacht charter.
And Much More!
Links and Resources from this episode: