Sail Loot Podcast 043: Jason and Kim Ellis Putting Mimzy Into Charter
By
Teddy
on January 6, 2017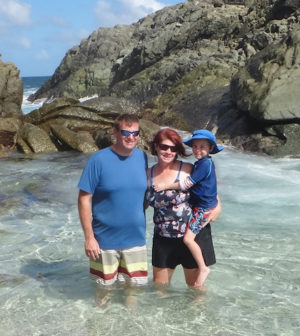 Jason and Kim Ellis have had this lifelong dream of sailing around the world for a while, but they also want to make sure that it's the right time to bring their son along. Their son is in 1st grade now. Their plan all along had been to buy a boat when he was in 4th grade and set sail at the end of 5th or 6th grade.  They just happened to find the sailboat a couple of years earlier than they were expecting.
Mimzy is a 44 foot Dean sailing catamaran that was built in 2007 and refit in 2016. It's exactly what Jason and Kim were looking for in a sailboat for their family, but now they have to figure out what to do with Mimzy for the next couple of years. That's where Steve Schlosser and Paradise Yacht Management come into play.
Paradise Yacht Management is just that…a team of experts that specializes in managing crew charters in paradise (the US, British, and Spanish Virgin Islands). It's very similar to what Wiley and I discussed in Sail Loot Podcast Episode 041 and Episode 042. Wiley runs Blue Waters VI Yacht Management with his wife, Laura. Blue Waters VI is probably a direct competitor to Paradise Yacht Management. Sail Loot isn't here to tell you which yacht management company you should use. Sail Loot is here to give you all of the information that you may want to use so that you can choose the company that you would like to have manage your crew charter yacht! Whoever you choose, I hope that you make some sailing money!
I digress…
In order to keep the loan and insurance paid for the next few years, Jason and Kim decided to use Mimzy to start their crew charter yacht business. Paradise Yacht Management will manage Mimzy and Captin Darrin Jackson and Chef Desire will be the crew!
Of course, as we always do on the Sail Loot Podcast, we go over the numbers. Jason, Kim, and I discuss how they bought Mimzy, their loan, their interest rate, their goals for the charter business, and much more! I hope you enjoy!
Podcast: Play in new window | Download | Embed
Subscribe: Apple Podcasts | Android | RSS
A Few Things You'll Learn about Jason and Kim Ellis and putting Mimzy into Charter as a Sailing Business in this episode:
Finding Mimzy
Why Jason and Kim think that they found Mimzy a few years too early.
"Investing" in a Porsche to help pay their down payment on a sailboat.
How Jason and Kim met Steve and Deb Schlosser
Bareboat vs. Crew Charter Yachts and the re-fit necessary to bring Mimzy up to "luxury" status.
Their financial expectations for putting Mimzy into charter.
Their plan to use Mimzy for their own vacations.
How Jason and Kim plan to afford everything when they cut the dock lines and take Mimzy on their own adventure!
What is the charter season?
The magic number of charters that Mimzy has to do this season for Jason and Kim to break even.
Their tax savings by being able to write off upgrades to their sailboat because it's used for a business.
Booking your own boat for charter – getting rid of the 15% broker fee.
The various and somewhat overlapping responsibilities of the clearing house, charter yacht management company, and brokers.
How they've run the charter vacations that they've taken with friends in the past.
Does a week on a luxury sailing catamaran charter cost less than Disney World?
And Much More!
Links and Resources from this episode:
THANK YOU!
Thank you very much for listening to the show! If you enjoyed listening, it has helped you in any way, or you know somebody else that would enjoy it, please share it using the social media buttons that you see on the page.
Additionally, reviews for the Sail Loot podcast on iTunes are extremely helpful and greatly appreciated! They do matter in the rankings of the show and I read each and every one!
Lastly, if you have any questions or comments please leave them below or go ahead and send us an email via the Contact page!
TeddyJ