Sail Loot Podcast 037: Salty Times Sailing to find the Surf with Base and Jamie
By
Teddy
on April 29, 2016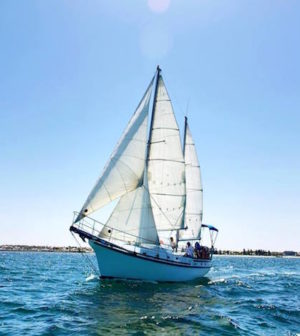 Base and Jamie have traveled around the world searching for the perfect surf breaks. Base helped set up a surf school in Costa Rica. Jamie moved from Canada to Australia in search of warmer waters.
They met each other in Fremantle, AU and decided that the most environmentally friendly and sustainable way to find the surfing breaks of their dreams was to go sailing. Base used the old, "Do you want to go sailing?" line for their first date and they've finally been able to put together the sailing money to purchase Charade and sail her to Indonesia in search of the most epic surfing breaks.
Base was working as a hydrogeologist. Jamie was working as a sustainability consultant while learning how to put together websites and start internet businesses. In the meantime they both received the necessary certifications to re-start the Southern Cross Sailing charter business on Charade and make some of their sailing money by…wait for it…sailing!
Podcast: Play in new window | Download | Embed
Subscribe: Apple Podcasts | Android | RSS
A Few Things You'll Learn about Base, Jamie, and their Salty Times in this episode:
Base and Jamie's first date.
Base's various surfing trips and odd jobs across the world.
Sailing on the Swan River.
Jamie's first taste of coastal cruising
Base decides to test his sailing skills on a delivery from Tonga to New Zealand in the middle of winter.
Jamie and Base's sailing dream.
Their process for finding and purchasing Charade.
Selling Gremlin.
Base's work as a hydrogeologist.
Jamie's sustainability consulting endeavors.
The story behind starting Blissful Eco Life.
Taking people on sailing charters with Southern Cross Sailing.
Teaching sailing.
Their budget for their sailing and surfing money.
When their setting sail. (Hint: It's VERY soon!)
Their plan for if/when they have to return home.
The few projects that they have left before they set sail.
And Much More!
Links and Resources from this episode:
THANK YOU!
Thank you very much for listening to the show! If you enjoyed listening, it has helped you in any way, or you know somebody else that would enjoy it, please share it using the social media buttons that you see on the page.
Additionally, reviews for the Sail Loot podcast on iTunes are extremely helpful and greatly appreciated! They do matter in the rankings of the show and I read each and every one!
Lastly, if you have any questions or comments please leave them below or go ahead and send us an email via the Contact page!
TeddyJ