Sail Loot Podcast 013: Investing Money to Make Money While Sailing the Mediterranean with Franz Amussen
By
Teddy
on January 22, 2015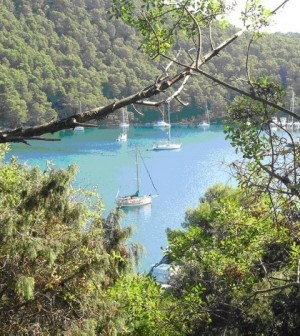 As a young child Franz Amussen had a yearning to travel and was envious of his Aunt and Uncle that would tell him stories of traveling the world. He also had some copies of National Geographic Magazine that detailed Robin Lee Graham's adventures of sailing around the world at 16 years old. Robin then co-wrote the book Dove detailing his journey.
Franz knew from the beginning that he was going to build his own boat and sail it across the world's oceans. He knew that he couldn't afford to buy a boat without a loan, and he didn't want to be shackled by debt. After hoarding lead wheel weights for the keel, and 5 years of building his sailboat out in the shed every winter, his Lyle Hess designed Bristol Channel Cutter was launched in Bellingham, WA.
In the past Franz was a stock broker. Now, he makes his sail loot as the CEO of Amussen, Hunsaker & Associates, Inc. – Registered Investment Advisors. He also makes some beer money with the Sailing in the Mediterranean Podcast, at medsailor.com, and at the Series 7 Podcast. He's got a website for his investment business, websites for his podcasts, and loves the audio format. Enjoy the interview!
Podcast: Play in new window | Download | Embed
Subscribe: Apple Podcasts | Android | RSS
A Few Things You'll Learn About In This Episode:
What inspired Franz to start traveling.
How Franz got into racing sailboats on the Great Salt Lake.
Why Franz chose to travel by sailboat.
Building his sailboat.
How Franz convinced his wife to start sailing.
The catalyst to Franz's transoceanic passage.
Why Franz chose the Mediterranean.
How Franz made more money by taking 5 months off to sail across the Atlantic.
How Franz started his current business.
How Franz continues to sail the Mediterranean for 2 months every year.
How Franz schedules crew to join him on his sailing adventures.
Why Franz decided to start the Sailing in the Mediterranean Podcast.
The audio courses that Franz has put together.
The other podcasts that Franz has produced.
How much Franz spends per month sailing in the Mediterranean and how he sticks to it.
And much more!
Links and Resources From This Episode:
THANK YOU!
Thank you very much for listening to the show! If you enjoyed listening, it has helped you in any way, or you know somebody else that would enjoy it, please share it using the social media buttons that you see on the page.
Additionally, reviews for the Sail Loot podcast on iTunes are extremely helpful and greatly appreciated! They do matter in the rankings of the show and I read each and every one!
Lastly, if you have any questions or comments please leave them below or go ahead and send us an email via the Contact page!
TeddyJ