Sail Loot Podcast 012: From Corporate America to Ottsworld with Sherry Ott
By
Teddy
on January 15, 2015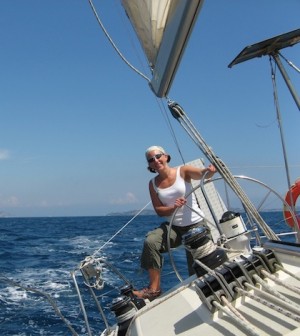 Sherry Ott was once living the good live in New York City. She had a great job as a project manager in the information technology sector.
Sherry was living the perfect American lifestyle. Perfect for what we're told "The American Dream" is anyway. Perfect on paper for that resume that stated that she went to school, got a good job, and was working on building a good career that would help pay for all of the stuff that she could ever dream of.
For the next 35-40 years she would go to work every day, do an above average job, take her 2-4 weeks of vacation every year, and retire at the ripe age of 65 right? If that is your dream lifestyle, then I'm not going to tell you that it's the wrong thing to do, but Sherry decided that it wasn't right for her. She ran away from that corporate lifestyle to travel around the world.
This is the story of how Sherry made her dream of traveling come true, and how she has kept going.  She doesn't need sailing money, but she does need to support her nomadic lifestyle. Some of the tips that Sherry includes in this amazing interview can be used to save your sailing money, and make some money while cruising.
Sherry has traveled around the world and back, and there is no end in sight.
Podcast: Play in new window | Download | Embed
Subscribe: Apple Podcasts | Android | RSS
A Few Things You'll Learn About In This Episode:
What Sherry was doing prior to running away from corporate America.
Why Sherry decided to run away.
Sherry's original travel plan.
The steps that Sherry took to start her adventures.
Where Sherry went and the number of countries that she visited in her first 16 months.
Can you guess where Sherry took her ESL certification course?
How Sherry started her Ottsworld blog.
How and why Sherry decided transfer Ottsworld to a self-hosted site and start monetizing it.
Where Sherry is now.
Starting Meet Plan Go and what inspired her.
Meet Plan Go's Big Hairy Audacious Goal (BHAG).
How Sherry met Michaela Potter, her Meet Plan Go business partner.
The plan to monetize Meet Plan Go and their struggles.
What they try to teach at Meet Plan Go.
How Sherry works with Destination Marketing Organizations (DMO) and Tourist departments.
How new media – websites, blogging, podcasting – has revolutionized the travel and tourist industry.
Sherry's top tips for taking a break from the corporate lifestyle to travel.
Sherry's top tips for making a complete lifestyle away from.
And much more!
Links and Resources From This Episode:
THANK YOU!
Thank you very much for listening to the show! If you enjoyed listening, it has helped you in any way, or you know somebody else that would enjoy it, please share it using the social media buttons that you see on the page.
Additionally, reviews for the Sail Loot podcast on iTunes are extremely helpful and greatly appreciated! They do matter in the rankings of the show and I read each and every one!
Lastly, if you have any questions or comments please leave them below or go ahead and send us an email via the Contact page!
TeddyJ
P.S. Sherry also shared some other great pictures, so I had to throw them in!