Sail Loot Podcast 041: The Money Side of a Virgin Islands Sailing Charter with Wiley Sharp
By
Teddy
on November 4, 2016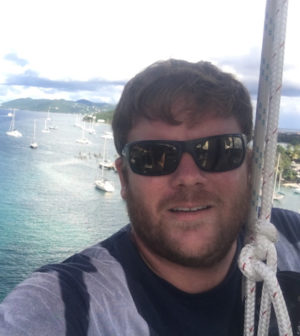 I've had several people email me and ask about owning and operating a sailboat charter. I found Steve and Chrissy Solonynko via their Knot Anchored blog and realized that they owned and operated a 2010, 46 ft, Robertson & Caine catamaran, Knot Anchored, for two years before turning the reigns over to Captain Leon Sheepers and Chef/hostes Monika Kudyba in May of 2016.
I emailed Steve and Chrissy to ask if they would be interested in sharing some information about becoming owners and operators of a crewed sailing catamaran charter in the Virgin Islands. Their immediate response was, "I'm putting you in touch with the guy that made it all happen for us – Wiley Sharp."
Wiley grew up in the Tampa, FL area and has been sailing most of his life. He now wears two hats as a catamaran broker heading up the BVI area for Denison Yacht Sales and a founding partner of Blue Waters VI Yacht Management with his wife. As you'll hear, Wiley has a wealth of knowledge about setting up and operating a sailing catamaran for charter.
Wiley and I had a few different conversations, and as I write this I have two Sail Loot Podcast episodes worth of content. I'm leaving for the Virgin Islands on Saturday, November 5th, 2016 and I plan on trying to buy Wiley a beer. I'll probably ask him more questions. I'll do my best to record everything. This is being released the day before I head to the Virgin Islands, but if you can think of any questions that you want me to ask Wiley in person, leave a comment below, ask your question there, and I'll see what I can do!
For now…here is part 1 of my conversations with Wiley Sharp:
Podcast: Play in new window | Download | Embed
Subscribe: Apple Podcasts | Android | RSS
A Few Things You'll Learn about Wiley Sharp and Putting a Sailing Catamaran into Charter as a Sailing Business in this episode:
How Wiley met and helped Steve and Chrissy become Knot Anchored.
The small world of sailing.
How Wiley hailing bridge tenders in the Tampa area got him into sailing.
Why Wiley and his wife gravitated to the crewed yacht charter business.
Wiley's size, age, configuration, and amenity recommendations for a crewed catamaran charter boat.
The finances of purchasing a catamaran, or any sailboat for that matter.
Owning the sailboat under an LLC.
Sailboat insurance.
Where you should flag and document your sailing vessel.
Airport logistics.
Provisioning costs for a week long charter.
Importing lamb and organic chicken breasts.
And Much More!
Links and Resources from this episode:
THANK YOU!
Thank you very much for listening to the show! If you enjoyed listening, it has helped you in any way, or you know somebody else that would enjoy it, please share it using the social media buttons that you see on the page.
Additionally, reviews for the Sail Loot podcast on iTunes are extremely helpful and greatly appreciated! They do matter in the rankings of the show and I read each and every one!
Lastly, if you have any questions or comments please leave them below or go ahead and send us an email via the Contact page!
TeddyJ