Sail Loot Podcast 023: Leela's Sailing Money with Emmanuel & Saxony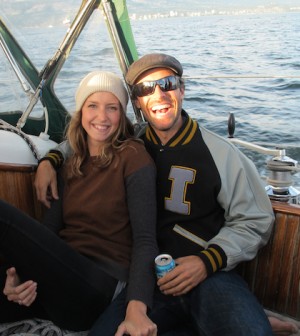 When Emmanuel emailed me in early March on of the words that he used to describe the Sail Loot Podcast was "Brilliant." You know, I tend to agree! Maybe he just knew how far flattery can take you in this world. I don't know. Either way, thank you Emmanuel!
He also said things like,
"Last year I met a wonderful girl (Saxony) and we made it our goal to go sailing."

"Go-go-go all the time best summarizes my line of work. I've built a consulting business, sold it to a larger firm, been a partner in this larger firm for past 3 years."

"3 weeks ago I announced to my business partners I wanted to quit and go sailing."
Obviously, my first thought was, "This sounds like a great story for the Sail Loot Podcast!"
They bought their sailboat, Leela, in August of 2014 and have been retrofitting her to get her into cruising shape for the last 9 months. Of course, I was curious about how Emmanuel and Saxony came up with Leela's sailing money. Take a listen to this episode of the Sail Loot Podcast to find out!
Podcast: Play in new window | Download | Embed
Subscribe: Apple Podcasts | Android | RSS
A Few Things You'll Learn About Leela's Sailing Money, and Life with Emmanuel and Saxony In This Episode:
How Emmanuel hauled his first sailboat.
Purchasing and sharing The Black Knight's expenses.
One of the most important jobs on a boat – Log Watch.
How Emmanuel and Saxony have been honing their sailing skills.
Emmanuel's entrepreneurial spirit.
When Emmanuel started his his engineering consulting business and started saving money.
How Saxony was able to use volleyball to travel Southeast Asia.
Why Saxony is used to living within her means.
Our thoughts on work/life balance.
How Emmanuel and Saxony met.
Purchasing and updating Leela
Leela's cruising plans.
The adventurous spirits of Emmanuel and Saxony.
Their budget.
Their travel schedule between Bellingham, WA and Vancouver, BC to perform the upgrades on Leela.
Emmanuel and Saxony's tips.
And much more!
Links and Resources From This Episode:
THANK YOU!
Thank you very much for listening to the show! If you enjoyed listening, it has helped you in any way, or you know somebody else that would enjoy it, please share it using the social media buttons that you see on the page.
Additionally, reviews for the Sail Loot podcast on iTunes are extremely helpful and greatly appreciated! They do matter in the rankings of the show and I read each and every one!
Lastly, if you have any questions or comments please leave them below or go ahead and send us an email via the Contact page!
TeddyJ