Sail Loot Podcast 009: The Overnight Success Dream – It's a Myth. Get Over It
By
Teddy
on December 18, 2014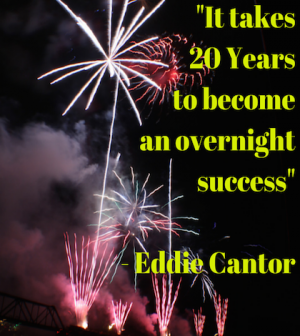 So, you didn't get thousands of comments when you launched your website? Kelly Ripa and Michael Strahan (can you tell I'm a Giants fan?) haven't been blowing up your iPhone? You didn't sell 10 million units in your first month? You didn't win the SuperBowl in your first year of the NFL?
Get Over It:
Seriously, get over it, and keep pushing. Keep bootstrapping. Keep writing. Keep providing high quality content and products. Make it your mission to first and foremost help people. Keep grinding and solving your community's wants and needs, and the success will come.
The Myth:
The myth is that if you have this amazing idea that nobody has though of yet, and you release it to the world that it will go viral overnight. You'll have 100 million views on YouTube, you'll have 500 million page views in a day, and you'll sell a billion units overnight. You'll be popular, you'll be rich, your business will turn a profit the second it opens its doors and it's doors will be open for 500 years.
Use the player below, or download via iTunes or Stitcher if you'd like to listen instead of read!
Podcast: Play in new window | Download | Embed
Subscribe: Apple Podcasts | Android | RSS
The Reality:
It's a myth. It's just not true. That's not the way the world works. You want examples? We've got examples. Here you go:
Angry Birds was Rovio's 52nd attempt. It took them 8 years and they nearly went bankrupt prior to the release of the ridiculously popular game.
James Dyson Failed in 5,126 prototypes before perfecting vacuum cleaner.
WD-40's first 39 experiments failed. Actual name is "Water Displacement – 40th Formula"
Biz Stone, Twitter founder, had been creating blogging, mobile and social products for 8 years before founding Twitter. Biz says, "Timing, perseverance, and ten years of trying will eventually make you look like an overnight success."
Google started working on Gmail in August 2001. They didn't launch it until April 1, 2004. Nobody liked it at first, and even people inside of Google were predicting doom.
Amazon launched in 1994. My family had 1 DOS based computer with a dialup internet connection at the time. They added book reviews in 1996 and CDs in 1998. They didn't turn a profit for the first seven years.
Michael Jordan was drafted by the Chicago Bulls in 1984, but didn't win a championship until 1991. It took 7 years for Michael Jordan to win an NBA championship.
Lebron James was drafted by the Cleveland Cavaliers in 2003. He didn't win an NBA championship until 2012. It took Lebron James 9 years to win an NBA Championship.
The Cleveland Browns, Jacksonville Jaguars, Detroit Lions, and Houston Texans have never even participated in an NFL Superbowl. There are 9 other teams who have never won.
And of course, GoPro. Let's end these examples with a quote from GoPro founder and CEO, Nick Woodman. "

People think that GoPro is an overnight success, but really its been a ten year slog to get to this point and while at the time maybe I wished that I'd had more money than I did, I see it as really advantageous now because we took a long time to learn our markets and learn our customers." – courtesy of

Inc.
The Point
Honestly? I write this to motivate and inspire. Not only to keep you motivated and inspired, but also as a post that I can come back and look at to remember why I started Sail Loot in the first place.
Trust me, there are times when I sit back and say, "Couldn't I be way more productive if I weren't spending the majority of my time off editing interviews in Garageband? Or updating my Facebook and Twitter pages? Or, sitting here writing this post about how much time and hard work it really takes to get a blog, website, or business off the ground."
In the end I have to realize why I was so excited about starting SailLoot.com in the first place. I have to remember that I had, and still have questions about how to finance my dream of cruising the world. I have to remember that the question of financing your dreams is probably the number one question that everybody has about taking off and traveling the world.
I remember that I love talking to the people that I get a chance to interview for the podcast. I love getting involved in the sailing and cruising community and why not share that for the rest of the world to listen to, or read?
At the time that I write this, I don't have thousands of followers, or likes, or email subscribers. I'm spending money to keep Sail Loot up and running, host the podcasts, and deliver content. There are tools that I use help me with the webpage and the podcast that cost money. I think about all of that and then I think, "I've only had the website up for 6 months. Calm down."
What I get in return is the smile on my face after every interview. The things that I learn, and the stories that are shared are amazing. I share those stories, and the responses that I get in return keep me going.
Sail Loot is for the sailing and cruising community, it is fun, and I love it.
Am I hoping that the website and podcast help me find my sailing money? Absolutely. Maybe it helps me come up with that brilliant idea and start a business. For now, I get inspiration from the people that I get to talk to, and I hope that sharing those stories will also inspire others.
I have to remember that it takes time to win a championship, that it takes several years and near bankruptcy before producing a hit, and that it takes hundreds (if not thousands) of articles to be written before one goes viral. If, one EVER goes viral.
Be Wary of the "Get X Quick" Schemes
Go over to the Sail Loot Weigh Anchor page and watch the 14 minute video about how to Build a Website With Bluehost in 10 Minutes or Less. Then, realize that you may pause the video a few times. You may have a decision to make about the plan you want to purchase, or which credit card you want to use. Those decisions may take you 5 minutes alone. Of course, I hate to call the video a "scheme." You actually can get a website up and hosted in about 10 minutes if you have all of those decisions made, and you just keep entering your information and clicking the submit and order buttons. But take a minute and realize that for most people making the decision to purchase hosting for a website, the process is probably going to take a little longer than 10 minutes.
Maybe you've seen the "How Company XYZ increased their followers (likes, customers, email subscribers, whatever) by 300% in 2 Days" headlines. I'm not saying that company XYZ didn't have that kind of success, but just be a little skeptical. The reality is that company XYZ was probably already doing pretty well. They probably already had what people just starting their websites consider a lot of followers. They already had a LARGE fan base. They may have already been ranking #1 in Google. Then, they paid to use a tool, had a team help them put something together, and presto, 2 days later they had 1800 email subscribers instead of 600.
Again, I'm not saying that the tools being advertised don't work. I'm just trying to make sure that you have realistic expectations. The tool may help you go from 10 email subscribers to 30 in 2 days. But that rate may not continue, and it may not get you to the goal you had in mind.
Not Seeing the Results You Had in Mind?
You have to realize that ideas take time to materialize. That just because you build a website and put it out there, does not mean that people will find it and just click on a Buy Now button. Just because you drafted Michael Jordan or Lebron James doesn't mean that you're going to win an NBA Championship next year. Quitting, or giving up before you've put in the hard work, and followed all of the steps is a sure fire way to fail.
Keep writing. Keep creating videos. Keep publishing podcasts. It takes practice to perfect your craft. It takes time for people to realize that there is a great new blog, website, service, or business out there. Nothing happens overnight.
Teddy
Links and Resources: