Sail Loot Podcast 010: Zero To Cruising To Chartering One Love with Mike and Rebecca Sweeney
By
Teddy
on December 23, 2014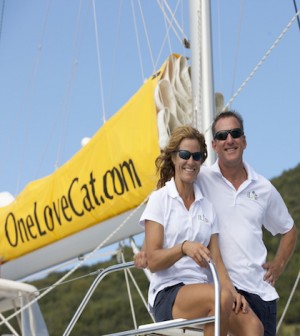 You have heard of Mike and Rebecca Sweeney right? No? Have you heard of the Zero to Cruising website?
Mike and Rebecca started their sailing adventure in Kingston, Ontario in July 0f 2010. It seems as if their preparation process took them about 2 years. They came up with the idea of setting sail (you'll find out how in the podcast. After all, I wouldn't want to spoil the fun stuff for you!), and published their first post on Zero to Cruising in October of 2008. Yes, they built a website and published that first post 2.5 MONTHS BEFORE they took their sailing classes in Florida with Offshore Sailing School.
They were hooked, and from that point on it was selling houses, living out of closets and in basement apartments, purchasing Zero to Cruising, and re-fitting her for cruising. The Sweeneys moved aboard, set sail and headed South from Canada until they reached Trinidad.
They met Michael Eckert, owner of One Love, in the Bahamas. It's a good story so I won't spoil it for you (Again, it's in the podcast). I will say that it all comes back to the internet. It always does. It stems from a website that somebody has seen, and a boat name that is recognized. A dinghy ride here, another blog follower there…oh just listen to the podcast already!
Podcast: Play in new window | Download | Embed
Subscribe: Apple Podcasts | Android | RSS
A Few Things You'll Learn About In This Episode:
Making life changing decisions while drinking wine in a hot tub.
The steps Mike and Rebecca took to learn to sail.
Selling their martial arts school.
Searching for a sailboat.
Finding Zero to Cruising.
Living out of a closet in their gym for four months.
How much they paid for Zero to Cruising.
Sailing South from Canada.
How they met Michael Eckert, majority owner of One Love
Their transition to chartering One Love after 3 years aboard Zero to Cruising
Their experience buying a charter boat from a charter company, The Moorings.
Re-fitting One Love for charter.
How the charter business works.
How people find One Love Catamaran Charters to book their vacations.
The camaraderie between charter boats in the Virgin Islands
Legal issues of chartering a boat.
How they flagged One Love.
Getting visas to work on One Love.
Their base of operations at Compass Point Marina in St. Thomas, USVI.
A typical charter week on board One Love.
And much more!
Links and Resources From This Episode:
THANK YOU!
Thank you very much for listening to the show! If you enjoyed listening and it has helped you in any way, please share it using the social media buttons that you see on the page.
Additionally, reviews for the Sail Loot podcast on iTunes are extremely helpful and greatly appreciated! They do matter in the rankings of the show and I read each and every one!
Lastly, if you have any questions or comments please leave them below or go ahead and send us an email via the Contact page!
TeddyJ