Sail Loot Podcast 024: Cruising with Jessica and Matt's Sailing Money, MJ Sailing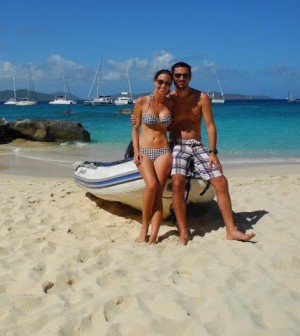 Matt and Jessica decided that it was time to get off the couch and start experiencing life. How they would experience life was the first question. When they decided that sailing was the answer, all they had to do was learn how to sail, find a boat, and figure out how to find their sailing money. Easy enough, right?
They ended up taking some sailing lessons, and getting some sailing practice for about 2 years on Muskegon Lake and Lake Michigan. Their sailing money came with a lot of hard work, some downsizing (of their possessions and their activities), and some budgeting to make sure that they wouldn't blow through their cruising kitty while sailing across oceans.
Matt and Jessica started with a little bit of money saved up, "normal" jobs, and a dream. They took off with enough sailing money in the bank to cruise for about 4 to 5 years if they stuck to their budget. Enjoy listening to this episode of the Sail Loot Podcast for all of the details!
Podcast: Play in new window | Download | Embed
Subscribe: Apple Podcasts | Android | RSS
A Few Things You'll Learn About Matt and Jessica, MJ Sailing, and their Sailing Money In This Episode:
Their Hunter 240, their first trailerable sailboat.
Their jobs on land prior to taking off cruising.
How much they paid for all of their sailboats.
Their cruising budget.
How big their crusing kitty was before they left. You know, this directly relates to how long they planned on cruisng.
Where they've sailed so far.
Crossing the Atlantic…twice within the span of a year.
The Re-fit of their new sailboat, Daze Off (the current name).
Matt's hobby.
Where they're living while they re-fit Daze Off
How Matt and Jessica keep a low-cost lifestyle.
Going the "wrong way" around the Caribbean.
Jessica's sailing money and frugal cruising tips.
And Much More!
Links and Resources From This Episode:
THANK YOU!
Thank you very much for listening to the show! If you enjoyed listening, it has helped you in any way, or you know somebody else that would enjoy it, please share it using the social media buttons that you see on the page.
Additionally, reviews for the Sail Loot podcast on iTunes are extremely helpful and greatly appreciated! They do matter in the rankings of the show and I read each and every one!
Lastly, if you have any questions or comments please leave them below or go ahead and send us an email via the Contact page!
TeddyJ