Sail Loot Podcast 044: Sail Libra with Captain Ryan
By
Teddy
on January 13, 2017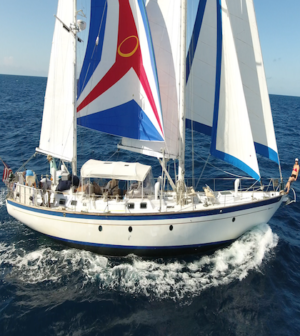 Captain Ryan found a way to make money by offering sailing charters in Orange Beach, AL 9.5 years ago on his Irwin 37, SailOB, and by forming Orange Beach Sailing Adventures. Prior to that he was working behind a desk in the computer and information technology department in Atlanta, GA for Delta.
Okay, I'll admit that in his early 20's that same job with Delta allowed him to work remotely in Southeast Asia and hop on some yacht deliveries in Thailand. Needless to say, Ryan has spent some time on the water.
That same job with Delta eventually brought Ryan and his wife back to Atlanta, but he knew that he had to have a boat. He purchased an Irwin 37 and had it moved via truck and trailer to Orange Beach, AL. There were a few years that Ryan spent 5 hours driving back and forth from Atlanta to Orange  Beach every…single…weekend.
In his late 20's Ryan finally decided that he couldn't take the commute to the water anymore. He had to live on, or around, water so he and his family packed their bags and headed to Orange Beach, AL. Ryan wasn't living there long when he figured out that he might actually be able to make some money by taking families and small private groups on sailing tours. Orange Beach Sailing Adventures was born.
Ryan is only 38 years old and has been making his sailing money by actually being out on the water and sailing for the last 10 years. He does that on his Irwin 37, SailOB, during the Orange Beach tourist season, the summer, or hurricane season.
Eventually, Ryan realized that there was an opportunity to take passengers on longer, offshore trips in the winter, or non-hurricane season. That's where S/V Libra and Sail Libra comes in to play!
Have you ever wanted to learn what the experience of an offshore passage is like with a capable and competent captain and crew? Have you ever wanted to help sail a 60′, custom, Bill Tripp Jr. designed, center cockpit ketch? That's what Sail Libra does, and they want you to come along!
Captain Ryan tries to schedule Libra's trips so that they take a maximum of 8 days on passage. That way, you only have to take 3 to 5 business days off from work. Do you think you can make that work for you?
In my chat with Captain Ryan we discuss his background, and we get into all of the numbers too. We find out prices of his sailboats, what he charges, and a whole lot more! Take a listen and you may even find out how to get a Sail Loot discount on your next Sail Libra adventure!
Podcast: Play in new window | Download | Embed
Subscribe: Apple Podcasts | Android | RSS
A Few Things You'll Learn about Captain Ryan Rayfield, Sail Libra, and Orange Beach Sailing Adventures in this episode:
Orange Beach is in Alabama – Ryan had to make sure that I knew some geography.
Captain Ryan's life and job prior to starting Orange Beach Sailing Adventures.
Purchasing and relocating his Irwin 37, SailOB.
The Re-fit of SailOB.
Running charters during the summer months, or tourist season in Orange Beach.
The difference between 6 PAX charters, un-inspected vessels, and inspected vessels under USCG laws.
Why and how Captain Ryan started Orange Beach Sailing Adventures.
Obtaining his captain's license.
Hopping on yacht deliveries in Thailand.
Marketing and advertising.
Escaping the cubicle.
Bringing Libra into the sailing equation.
Why Libra was impounded.
How Chauncey Hull (sp?) aquired Libra out of impound and Ryan ended up with her.
Libra's re-fit.
Libra's sea trials.
How Captain Ryan runs trips on S/V Libra.
Hop on and Sail Libra to the Strictly Sail Miami Boat Show!
Possible trips through the Panama Canal in late 2017.
Why Ryan runs offshore trips on Libra that are only 4 to 7 days long.
How to book a sail on Libra!
And Much More!
Links and Resources from this episode:
THANK YOU!
Thank you very much for listening to the show! If you enjoyed listening, it has helped you in any way, or you know somebody else that would enjoy it, please share it using the social media buttons that you see on the page.
Additionally, reviews for the Sail Loot podcast on iTunes are extremely helpful and greatly appreciated! They do matter in the rankings of the show and I read each and every one!
Lastly, if you have any questions or comments please leave them below or go ahead and send us an email via the Contact page!
TeddyJ