Sail Loot Podcast 047: Nica Waters, Go Simple, Go Now
By
Teddy
on March 17, 2017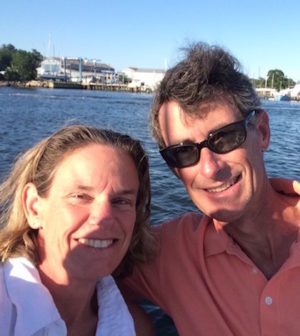 I met Nica Watters at the 2016 U.S. Sailboat Show in Annapolis, MD. I was walking around looking for people that I knew, and I figured that I would find Jamie and Behan at the Lin and Larry Parday Books (L & L Parday Books) booth promoting the book that Behan helped write, Voyaging With Kids: A Guide to Family Life Afloat.
Low and behold, Jamie and Behan were right where I expected them to be. Jamie had his S/V Delos t-shirt on. They were answering the questions of a couple that was planning on cruising with their kids in a few years and Behan noticed me standing there, listening to their answers with a big smile on my face.
Nica was huddled under the tent with the rest of us, staying out of the rain, and helping to promote the books of Lin & Larry Parday and a mantra of "go simple, go now." She and Behan are also admins for the Women Who Sail Facebook Group. They hadn't actually ever met in person before October 2016.
Jamie and Behan asked about my boat search and my cruising plans. Of course, Nica overheard all of this and was a little concerned when I started talking about the possibilities of a 45ft sailboat…for only me and Barley, my awesome dog. She had to stop me, and start explaining the "go simple, go now" mantra and how her and her family of four set sail on their 28ft Bristol Channel Cutter, S/V Calypso.
Podcast: Play in new window | Download | Embed
Subscribe: Apple Podcasts | Android | RSS
Enter to win the Sail Loot Merch Package giveaway by logging in with Facebook or using your email below! The package includes a Sail Loot sticker, T-shirt, beanie, and trucker cap – $70 worth of Sail Loot merch! You can check out all of the options for colors and sizes over at the Sail Loot Merch page.
A Few Things You'll Learn about Nica Waters and her Sailing Money in this episode:
Nica Waters the wellness coach and using sailing as a metaphor.
Nica's High School bestie is an olympic sailor
Meeting Jeremy, her husband, through sailing in college.
How buying a boat and going sailing after college was the best proposition that Jeremy could've come up with over pizza and beer.
Working for Sail Caribbean for a couple of summers in the BVI and Leeward Islands.
Nica and Jeremy's first cruise on S/V Calypso, their 28′ Bristol Channel Cutter, from 1994 to 1997.
Saving to sail by picking up old college furniture from the curbside.
Jeremy's passage planning and weather routing website FastSeas.com.
The rough budget for their first cruise.
Finding and purchasing Calypso.
Where they traveled on their first cruise.
Taking their kids with them on their 2nd cruise.
Going small, or without all of the unnecessary luxuries that break and require maintenance, but going now.
Their plans to go on another, longer cruise across the South Pacific.
How they've saved and plan to help pay for college tuition for their son and daughter.
Insuring Calypso.
The question about health insurance.
Their monthly budgets for all of their trips and what they're budgeting for their future adventures.
And much more!
Links and Resources from this episode:
THANK YOU!
Thank you very much for listening to the show! If you enjoyed listening, it has helped you in any way, or you know somebody else that would enjoy it, please share it using the social media buttons that you see on the page.
Additionally, reviews for the Sail Loot podcast on iTunes are extremely helpful and greatly appreciated! They do matter in the rankings of the show and I read each and every one!
Lastly, if you have any questions or comments please leave them below or go ahead and send us an email via the Contact page!
TeddyJ