Sail Loot Podcast 052: Teddy's Sailing Money to Purchase Asante
By
Teddy
on July 14, 2017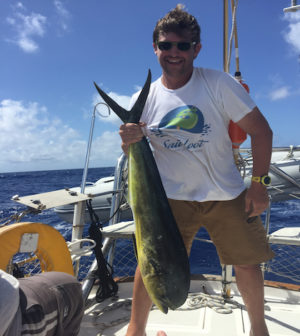 In the last few episodes I told you that I purchased Asante for $117,500 and told the story of delivering her from St. Thomas to Ft. Lauderdale, Florida. I decided to take out a loan to purchase Asante, but I figured that I would explain how I came up with the funds to be able to say, "It's sailboat buying time."
This episode is a brief history. It's less a history of the jobs that I've had and more about what I've done with the money that I've earned and how I've managed that money.
As far as jobs go, here's a brief resume. I had a co-op job with McKenney's, Inc while I was in college. McKenney's is an HVAC and plumbing contractor based in the Atlanta, GA area. I graduated from Georgia Institute of Technology with a Mechanical Engineering degree in December of 2002. My first job out of school was as a flight test engineer for NAVAIR in Patuxent River, MD. Three years later I wanted to move back to Atlanta so I found a job as a contracted flight test engineer for the Air Force with MEI Technologies. Two years into that job the contract was almost up and there was talk of moving me to the middle of nowhere to do more flight testing. The middle of nowhere is usually where flight testing is done. I didn't want to move to the middle of nowhere.
Along came a fraternity brother of mine from GA Tech. He had started his own Surgical Neurophysiology Consulting business three years earlier and had grown to the point where he had more business than he could handle on his own. He hired me, and 9 years later I'm still here, working with him in the Atlanta area.
By the way, as a Surgical Neurophysiologist, I monitor people's nervous systems during brain surgery and spine surgery.
Oh, and I recently told him that I'm going sailing, but you'll have to wait to hear about how that went on a future Sail Loot episode!
I started my career making $45,000 per year. I currently make 6 figures a year. The exact amount of money that I make every year varies depending on how many surgeries I help with every year so I can't give you an exact number.
There you go! Now you can listen to the episode to figure out what I did with all of my money!
I'm looking over Lake Lanier prior to a Wednesday night race thinking, "Do I just post the transcript of this essay/episode here?" Here's what I've come up with…comment below if you want me to share the entire transcript. If the overwhelming consensus is YES, I'll post it here at a later time.
I hope you enjoy the show!
Legal Disclaimer: I don't have any kind of certification as an accountant or financial advisor!
Podcast: Play in new window | Download | Embed
Subscribe: Apple Podcasts | Android | RSS
A Few Things You'll Learn about my sailing money and how I earned the funds to purchase S/V Asante in this episode:
Thank you Mom and Dad! You were a HUGE help, and I'll never forget it.
College tuition, room, and board.
Learning the value and how to budget my money.
My first car.
Purchasing houses.
Divorce Lawyers.
The splitting of assets.
Refinancing.
IRAs, 401ks, and index funds.
AirBnB.
Rental income.
And much more!
Links and Resources from this episode:
THANK YOU!
Thank you very much for listening to the show! If you enjoyed listening, it has helped you in any way, or you know somebody else that would enjoy it, please share it using the social media buttons that you see on the page.
Additionally, reviews for the Sail Loot podcast on iTunes are extremely helpful and greatly appreciated! They do matter in the rankings of the show and I read each and every one!
Lastly, if you have any questions or comments please leave them below or go ahead and send us an email via the Contact page!
TeddyJ