Sail Loot Podcast 054: Sail Me Om, Part 2
By
Teddy
on September 15, 2017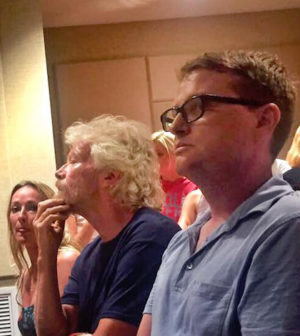 Hurricane Irma is gone, but the devastation that she left behind will leave scars for a lifetime.
Jon and Tory are doing amazing work trying to heal as many of those scars as possible as quickly as possible. I can't think of two better people to have organized SailorsHelping.org.
The islands get forgotten sometimes, especially by mainstream media and the federal governments that are supposed to watch over them.
In a way, I get it. Many have never had the opportunity to experience the beauty of St. Maarten, the Virgin Islands, Puerto Rico, the Turks and Caicos, or Cuba. They are islands in the middle of the Caribbean that have dealt with hurricane seasons since the beginning of time as we know it.
But I'm a sailor now – I can say that because I've run aground. I understand that the story of the destruction of biblical proportions that Irma left in the islands needs to be told. Who better to tell it and help coordinate recovery efforts than two people who founded The Tiziano Project which "provides community members in conflict, post-conflict, and underreported regions with the equipment, training, and affiliations necessary to report their stories and improve their lives."
Jon and Tory are probably still running their businesses all at the same time. Awe-Some!
Please check out the links below for ways that you can help the islands in the wake of Irma.
Podcast: Play in new window | Download | Embed
Subscribe: Apple Podcasts | Android | RSS
A Few Things You'll Learn about Jon and Tory and Sail Me Om in this episode:
What AVG actually does.
Setting up a 50 person exclusive dinner party in the middle of the desert.
How AVG started finding customers.
How they stay connected on the boat.
The price they pay to stay connected every month.
Restructuring the way they work due to connectivity.
Running a business from a sailboat.
Staying at a dock for a week for wifi.
Using Slack.
Time Management.
Simple boat systems.
Updating Scallywag's electrical system.
Doing the work themselves.
Hiring out tasks that are less than your hourly rate.
Affiliate links and online businesses.
Tools of the trade.
Family vs. technical boundaries.
And much more!
Links and Resources from this episode:
THANK YOU!
Thank you very much for listening to the show! If you enjoyed listening, it has helped you in any way, or you know somebody else that would enjoy it, please share it using the social media buttons that you see on the page.
Additionally, reviews for the Sail Loot podcast on iTunes are extremely helpful and greatly appreciated! They do matter in the rankings of the show and I read each and every one!
Lastly, if you have any questions or comments please leave them below or go ahead and send us an email via the Contact page!
TeddyJ