Sail Loot Podcast 040: Avoiding Mondays by Setting Sail with Monday Never
By
Teddy
on September 8, 2016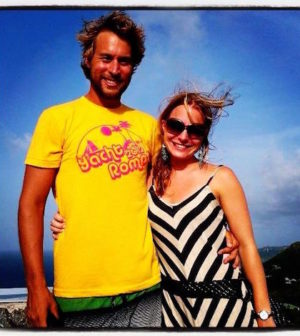 Will and Cat share a story that has never been dull. On the one hand, you can make it sound like they were the typical couple with masters degrees and consulting jobs. On the other hand, Cat was secretly putting together a spreadsheet to help them project their spending, save some sailing money, and follow Will's cruising dream before they settle down, have 2.5 kids, a dog and a picket fence in the suburbs (Ha! I don't know if I could ever see these two settling down in the suburbs).
In order to make their cruising adventure a reality Will and Cat had to save enough loot so that they could purchase a sailboat, do the necessary upgrades to the sailboat, have enough money for food, entertainment, and fishing gear for eight or more months, and even keep paying their monthly payments for their student loans. With their sailing goals set, and spreadsheets with their income, savings, and projected sailing costs all laid out, Will and Cat started putting their savings plan into action.
When they reached their goal, they bought a beautiful 1989 CS 36′ Merlin named Paradox sight unseen. Three and a half to four months and a few tropical storms later, they were on their way to Tortola to board Paradox for the first time. They used their money to set sail and cruise around the Caribbean islands for about 8 months, sold Paradox, and are now on to their next adventure! Check out the podcast for more detail and to hear it directly from Will and Cat! Here's to avoiding Mondays!
Podcast: Play in new window | Download | Embed
Subscribe: Apple Podcasts | Android | RSS
A Few Things You'll Learn about Will, Cat, Monday Never, and Saving their Sailing Money in this episode:
How Will and Cat met on what they call a glorified booze cruise.
The amazing, well paying jobs that they both decided to leave for a sailing sabbatical.
Spreadsheets and planning out their sailing money.
How much they had saved in their cruising kitty when they took off on their sailing adventure.
How they went about purchasing their sailboat, Paradox.
The purchase price of Paradox.
The talk with bosses and coworkers about taking off on a sailing adventure.
Worrying about storms, before seeing Paradox!
Downsizing.
Sailing during the tail end of hurricane season.
Using SoldBoats.com to do some sailboat price research.
Their travels through the Caribbean.
Some of their favorite and least favorite aspects of living on a sailboat.
Why they liked to get up and move to new anchorages.
Cat's obsession with fishing.
Why they didn't stay for a second sailing season.
Selling Paradox.
Gearing up for their next great adventure!
And Much More!
Links and Resources from this episode:
THANK YOU!
Thank you very much for listening to the show! If you enjoyed listening, it has helped you in any way, or you know somebody else that would enjoy it, please share it using the social media buttons that you see on the page.
Additionally, reviews for the Sail Loot podcast on iTunes are extremely helpful and greatly appreciated! They do matter in the rankings of the show and I read each and every one!
Lastly, if you have any questions or comments please leave them below or go ahead and send us an email via the Contact page!
TeddyJ