Sail Loot Podcast 056: S/V Smitty – Sailing from Boston to the USVI with Jesse, Stacey, and Summer
By
Teddy
on November 6, 2017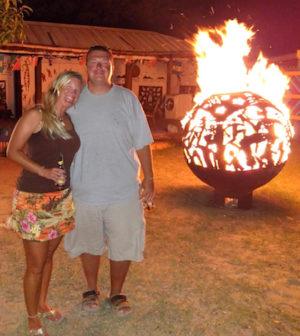 I met Jesse and Stacey from S/V Smitty in November of 2016. They're long time listeners to the Sail Loot Podcast and we had sent a few emails back and forth to each other before I went on a charter vacation in the BVI.
Jesse and Stacey live on S/V Smitty, their 2001 Catalina 310. S/V Smitty is on a mooring in Bay de Grigri between the island of St. Thomas and Water Island.
I stayed in St. Thomas for one night to meet up with my 3 other friends that were joining me for a week of charter sailing in the BVI. As soon as we got our gear situated in the Windward Passage we walked down to the Greenhouse Restaurant and Bar where we met Jesse and Stacey. They, of course, already had a rum drink in hand.
I learned that Jesse and Stacey had sailed to the islands from Boston on their 30ft sailboat and, at the time, had jobs as captains on day sailing charters. Now, with her accounting skills, Stacey has a "normal" job on St. Thomas and another conversation needs to be had with Jesse about his captaining plans post-Irma.
I've become good friends with Jesse and Stacey since we first met. Jesse was the only official captain on board Asante when we delivered her from St. Thomas to Ft. Lauderdale, FL. He is a wealth of knowledge and I'm very glad that I have his direct phone number so that I can call or text him with any questions I may have!
This is their story of how they were able sail their 30 ft Catalina from Massachusetts to St. Thomas with their Aussie mix, Summer!
Podcast: Play in new window | Download | Embed
Subscribe: Apple Podcasts | Android | RSS
A Few Things You'll Learn about Jesse and Stacey and their finances for sailing S/V Smitty South:
How their sailing dreams started with a trip on a Carnival cruise ship in 1996.
Exchanging vows in Magen's Bay in 2002.
Learning about the cruising life from the captain of Heavenly Days.
Doing the bareboat charter thing for 10 days.
Sailing S/V Splash and S/V Smitty on the weekends, holidays, and summers in Boston.
Purchasing S/V Smitty
Behind the name of S/V Smitty
Their 4 year plan.
Selling everything and getting out of debt.
How much money they left Boston with to go sailing.
Upgrading S/V Smitty and why they do all of the maintenance themselves.
Jesse's professional background as a geologist – before they left Boston.
Having a captain's license and STCW training to work on charters in the Virgin Islands.
How much of their cruising kitty they had left when they arrived in the Virgin Islands.
Insuring S/V Smitty.
Upcoming maintenance projects.
And much more!
Links and Resources from this episode:
THANK YOU!
Thank you very much for listening to the show! If you enjoyed listening, it has helped you in any way, or you know somebody else that would enjoy it, please share it using the social media buttons that you see on the page.
Additionally, reviews for the Sail Loot podcast on iTunes are extremely helpful and greatly appreciated! They do matter in the rankings of the show and I read each and every one!
Lastly, if you have any questions or comments please leave them below or go ahead and send us an email via the Contact page!
TeddyJ