Sail Loot Podcast 049: Jessie Saved Some Money to go Sailing on a Boat – With Katie, and now Luke
By
Teddy
on April 8, 2017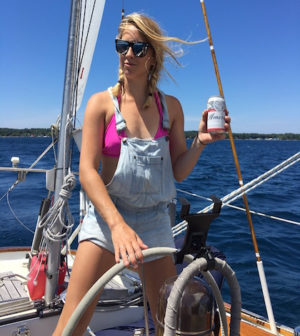 Jessica Zevalkink – better known as Jessie, Jess, JessieBrave, or Time Stopper – is the owner, operator, and creative director behind Katie And Jessie On A Boat and Jessie Takes Pictures. This podcast and these show notes are about Jessie, we find out some tidbits about Katie along the way, and the sailing adventures that they shared. However, as I started writing this I realized that I can't seem to put Jessie's name first when writing about both Katie and Jessie…see? It's just not natural to me.
So…Jessie…when you read this just realize that to all of us out there who follow your awesome, original, honest, raw, inspiring, gritty, beautiful, and (all of the complimentary adjectives that I can't think of because I'm an engineer not a writer)…you named the blog Katie and Jessie On A Boat. Therefore, when I am writing about both of you, Katie's name will be listed first even though you're the force behind the pictures and sailing stories.
You'll hear a little bit about Luke, Jessie's fiancé, in this episode of the Sail Loot Podcast too. I had the opportunity to meet Katie, Jessie, and Luke on a rainy day at the Annapolis Sailboat Show in October of 2016. We all exchanged contact information, but I got the chance to re-connect with Jessie at the Strictly Sail Miami Boat Show in February of 2017.
The story of Katie and Jessie getting the idea and following through with the amazing adventure of sailing America's Great Loop is awesome. Coming up next for Jessie is the adventure of sailing across the Atlantic on S/V Desiree with Luke. Jessie shares her stories, how she and Katie saved their sailing money and stopped to make some along the way, saving for her next adventure, and all of the numbers and intricacies.
Podcast: Play in new window | Download | Embed
Subscribe: Apple Podcasts | Android | RSS
All credit for all photos below goes to Jessie Zevalkink – I think (Jessie if that isn't true…let me know?). The featured image may have been taken by Katie. I highly suggest checking out Jessie's Instagram feed @jessiebrave, Katie's Instagram feed @katiegirllllll and the picture book page on the Katie And Jessie On A Boat website. All of these pictures were "borrowed" from those sites, with Jessie's permission of course. It was certainly difficult finding a picture with only Jessie in it.
A Few Things You'll Learn about Katie and Jessie on a Boat and how they saved their sailing money in this episode:
Jessie growing up taking sailing trips to Canada and Lake Huron on her father's 37 ft sailboat, S/V Desiree.
Jessie originally didn't want to get into the same things that her sister enjoyed.
Where and how Katie and Jessie were living prior to "The Wizard" sparking the idea of sailing America's Great Loop.
Becoming a helicopter pilot.
From high school in Michigan to Santa Barbara to Lake Tahoe to Colorado and back home to start sailing.
Finding, purchasing, and rehabbing S/V Louise, a 1979 Cal 27.
Restaurant work to save some sailing money.
Jessie's savings, emergency fund, and budget numbers.
Starting and sticking with Katie And Jessie On A Boat
Having Reggie on S/V Louise.
Boat Insurance while sailing.
Health Insurance while sailing.
Stopping to work before and after the Bahamas.
Getting introduced to Bob Bitchin and Jody from Cruising Outpost
What Jessie gets paid per Cruising Outpost article.
Sharing whiskey with the Chubb Key dock master while replacing their transmission.
Working on her photography business since finishing the Great Loop.
Going to 6 boat shows a year with Cruising Outpost.
Jessie and Luke's future plans to sail Desiree across the Atlantic.
How Luke and Jessie met.
And much more!
Links and Resources from this episode:
THANK YOU!
Thank you very much for listening to the show! If you enjoyed listening, it has helped you in any way, or you know somebody else that would enjoy it, please share it using the social media buttons that you see on the page.
Additionally, reviews for the Sail Loot podcast on iTunes are extremely helpful and greatly appreciated! They do matter in the rankings of the show and I read each and every one!
Lastly, if you have any questions or comments please leave them below or go ahead and send us an email via the Contact page!
TeddyJ