Sail Loot Podcast 050: Asante Delivery Part 1
By
Teddy
on June 17, 2017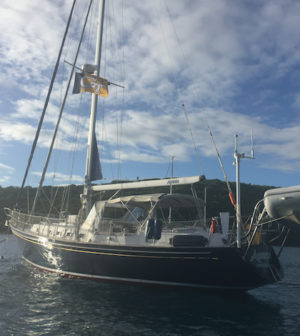 I now…
Officially…
Own a sailboat!!!!!!
You may know by now that I purchased S/V Asante from Scott and Brittany Meyers at Windtraveler. They needed a little bigger boat and an extra cabin for their family of 3 girls that are 5 years old and under. As far as I was concerned, I just needed a boat.
I didn't want just any sailboat. I had been to the sailboat shows and looked at all of the pretty new sailboats, and I had also seen them at the end of the show after thousands of people had trampled on them and the veneer laminate that covered whatever type of plywood was used for the interior had started peeling. To say that I shied away from current "production" sailboats would probably be an understatement.
Scrounging up half of a mil to drop on a new Beneteau or Leopard at the shows was also proving to be difficult.
Many people were consulted. Thank you Pam Wall, Wiley Sharp, and Kevin Barber. The question that was always asked was, "What are you going to use her for?"
My answer was always, "To cruise the world!" Actually, it was a little more detailed than that.
I wanted a cruising sailboat that I was able to island hop with, and cross oceans with. The first year or two might be spent checking out the Southeast coast of the United States and cruising the islands of the Caribbean. From there, I might just decide to cross the Panama Canal and cross to the islands of the South Pacific.
But you know…plans are written in sand at low tide.
So I wanted a cruising sailboat. I wanted a shallow enough draft so that I could gunkhole around the Caribbean, but a long enough keel to be able to cross oceans, a protected rudder (full skeg hung?), something that could be single handed but big enough for my 6′-1″, 215 lb frame, my 60 lb dog, a companion? (I haven't found her yet, but there's not a lot of sailors in Atlanta), and family and friends!!!
Before most others knew that they would be selling Asante, I found out that Scott and Brittany would soon be upgrading to a Tayana 48. I think I knew back in October of last year and it just so happened that I was chartering a catamaran for some fun island hopping of the BVIs during the first week of November.
I decided to spend the last night of my trip off of the catamaran that we had chartered and stay at the Nanny Cay Hotel. Staying off the boat allowed us to relax for one more afternoon at Nanny Cay, grab a hot, non-boat shower, and take our time getting to the ferry on Sunday morning. It also allowed me to meet the Windtraveler crew, casually check out Asante for the first time, and grab some cocktails with Scott and Brittany at the beach bar.
That's when my research of the Brewer 44 started. I came to find out that they are quite sturdy ocean cruising vessels with a 4.5 ft draft with the centerboard up and a 9 ft draft with the centerboard down, a full modified keel, through bolted deck-to-hull joint, a huge Center Cockpit, and Asante was rigged for single-handing.
There was also the question of money, and whether or not I wanted to spend $130,000 on a 29 year old sailboat. After deliberating and checking out other sailboats, the answer was obviously yes, but we'll get into more of those details later.
For now, enjoy Part 1 of the story about delivering Asante from St. Thomas to Florida!
Podcast: Play in new window | Download | Embed
Subscribe: Apple Podcasts | Android | RSS
[giveaway id=2032]
A Few Things You'll Learn about me, Teddy J, and the preparations for the delivery of S/V Asante in this episode:
Asante's purchase price.
Why I decided to purchase Asante.
Asante's design, features, and comforts.
The awesome delivery crew.
Our Diesel Burn Rate
Should I rename S/V Asante?
Popping bottles
Shipping tools to Asante
Putting crew to work to install a water pump for the freezer! – Thanks Dave!
Dealing with Island Time to get a few things fixed on Asante prior to closing day
Playing Jenga with our provisions and turning the rental car into a clown car.
And much more!
Links and Resources from this episode:
THANK YOU!
Thank you very much for listening to the show! If you enjoyed listening, it has helped you in any way, or you know somebody else that would enjoy it, please share it using the social media buttons that you see on the page.
Additionally, reviews for the Sail Loot podcast on iTunes are extremely helpful and greatly appreciated! They do matter in the rankings of the show and I read each and every one!
Lastly, if you have any questions or comments please leave them below or go ahead and send us an email via the Contact page!
TeddyJ