Sail Loot Podcast 031: Peter and Jody from Somewhere Warm and Sunny Down Where The Coconuts Grow
By
Teddy
on January 8, 2016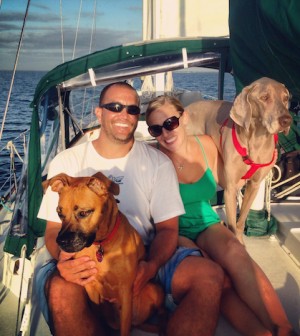 How quickly do you think you can climb aboard your sailboat and start a new life cruising the world? Jody and Peter met in April of 2011. Peter didn't inform Jody of his plan to sail around the world until July of 2011. Two years later, in August of 2013, they bought a 1980 Whitby 42′ Ketch – Center Cockpit. They released the dock lines in February of 2014.
I challenge you (let's be honest…I'm challenging myself here) to release the dock lines, Weigh Anchor, and start your sailing adventure in less than 2 years and 8 months.
Peter grew up on the water in San Diego. He's been surfing, fishing, and skippering boats (fishing, sailing, or both) all of his life. Jody and Peter came into each other's lives in April of 2011 and 2 months later, under the stars of the Eastern Sierra Mountains, a plan to live on a sailboat was formed.
Part of their adventure is figuring out how they're going to find the sailing money to keep their dream lifestyle afloat and sharing that with the world. They're inspiring others, and showing that it can be done with Where The Coconuts Grow.
To steal from them a little bit (I'm pretty sure that they won't mind), this episode of the Sail Loot Podcast was recorded from somewhere warm and sunny down where the coconuts grow…
Podcast: Play in new window | Download | Embed
Subscribe: Apple Podcasts | Android | RSS
A Few Things You'll Learn about Peter and Jody in this episode:
Peter and Jody's boating experience prior to setting sail.
Purchasing Mary Christine.
The purchase price of Mary Christine.
Their budget.
Their initial cruising kitty.
Dealing with boat insurance.
Keeping some sailing money in their cruising kitty via their website – Where The Coconuts Grow.
Sailing with dogs – A suitable sailboat, The Help 'Em Up Dog Harness, dogs doing their business, Honest Kitchen Pet Food, Storing Pet Food, Pet Paperwork, etc. (see links below).
Peter and Jody's next endeavor with Scott and Brittany from Windtraveler and Luuk from Sunkissed Soeters to make some Sail Loot.
Preparations that were needed for this new endeavor.
And Much More!
Links and Resources from this episode:
THANK YOU!
Thank you very much for listening to the show! If you enjoyed listening, it has helped you in any way, or you know somebody else that would enjoy it, please share it using the social media buttons that you see on the page.
Additionally, reviews for the Sail Loot podcast on iTunes are extremely helpful and greatly appreciated! They do matter in the rankings of the show and I read each and every one!
Lastly, if you have any questions or comments please leave them below or go ahead and send us an email via the Contact page!
TeddyJ