Sail Loot Podcast 051: Delivering Asante
By
Teddy
on June 22, 2017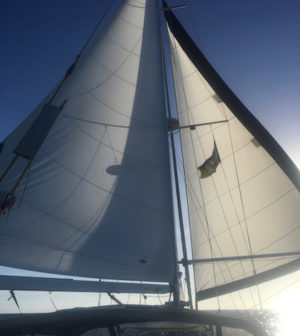 In the last episode of the Sail Loot Podcast you learned the purchase price of Asante and the whirlwind of activity that was necessary to prep her for sailing her from St. Thomas to the Fort Lauderdale, FL area.
Actually, I'm not quite sure that "whirlwind" describes the chaos of my brain for those two days in St. Thomas. Now that I think about it, I was actually in St. Thomas for less than 48 hours. My flight landed at about 12:45pm on Thursday the 25th of May and we were casting off the lines at the fuel dock prior to noon on Saturday the 27th.
Provisions may not have been completely stowed and new fire extinguishers may not have been securely hung on their new mounts, but everything was onboard somewhere. The crew was ready. All seemed satisfied and ready to set sail.
We had studied wind and weather reports for weeks. We had a weather window and we had to take it on Saturday morning.
Thank you again to Jesse, Dave, Brett, and Brandy for making the trip with me. Thank you Stacey for all of your help in St. Thomas. I can't say Asante Sana enough. Please visit the websites and blogs listed below. There are written accounts of the passage and even a cool video that Dave put together.
I hope you enjoy my detailed account of my maiden voyage on S/V Asante.
Podcast: Play in new window | Download | Embed
Subscribe: Apple Podcasts | Android | RSS
[giveaway id=1857]
A Few Things You'll Learn about me, Teddy J, and the delivery of S/V Asante in this episode:
Our last few chores before we dropped the lines to the mooring.
Asante's first diesel and water fill.
The watch schedule.
Dealing with sea sickness.
Our difficulties making coffee
Why isn't the stove working? We need coffee!!!
Fish on!!!
Setting the pole to sail wing on wing.
Topping lift woes.
Climbing the mast.
Why I will always carry a spare bilge pump.
Sunset cigars and sipping rum off the North coast of Cuba.
The arrival into Florida.
Getting docked up at Asante's temporary location.
And much more!
Links and Resources from this episode:
THANK YOU!
Thank you very much for listening to the show! If you enjoyed listening, it has helped you in any way, or you know somebody else that would enjoy it, please share it using the social media buttons that you see on the page.
Additionally, reviews for the Sail Loot podcast on iTunes are extremely helpful and greatly appreciated! They do matter in the rankings of the show and I read each and every one!
Lastly, if you have any questions or comments please leave them below or go ahead and send us an email via the Contact page!
TeddyJ