Sail Loot Podcast 053: Sail Me Om, Part 1
By
Teddy
on August 15, 2017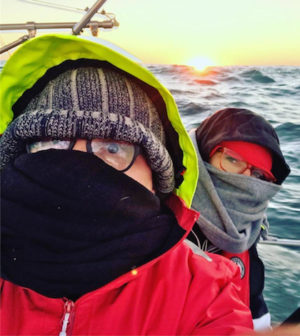 Jon and Tory are currently in Puerto Rico. I talked to them about 5 months ago when they were in the middle of the Bahamas. They started in New York City. They took 3 months to outfit their sailboat for cruising, headed North and then all the way South along the US East Coast before jumping across to the Bahamas.
Oh yea, and they've been building and running their own businesses at the same time.
I'd say that both of their businesses are in the marketing space, but trying to get an elevator pitch out of either of them was one of the hardest things I've ever done, and I don't quite think that I succeeded.
I've talked to a lot of sailors on the Sail Loot Podcast who have downsized, saved, built sailing blogs, written for sailing magazines, found boat maintenance jobs, started charter companies, sailed part time while working during hurricane seasons, and found captain and/or crew jobs to maintain their cruising kitty. However, Jon and Tory's businesses really have nothing to do with sailing. They have built and run their businesses from Scallywag the way that I originally envisioned a cruiser running a remote business.
In Part 1, we get into their story of purchasing and moving Scallywag across the US, moving onto Scallywag full time, and starting their own businesses.
Podcast: Play in new window | Download | Embed
Subscribe: Apple Podcasts | Android | RSS
A Few Things You'll Learn about Jon and Tory and Sail Me Om in this episode:
Not knowing how to sail when they bought a sailboat!
Purchasing Scallywag, a 1974 Islander 37.
Moving Scallywag across the country from California to New York.
Having their dog, Honey, on the sailboat.
Moving onto Scallywag to live full time on a sailboat.
Rent prices in New York City vs. Winter Boat Slip prices in Jersey City.
Teaching multimedia journalism skills in combat zones, and conflict and post-conflict zones by running The Tiziano Project.
Moving on to their positions in new companies in New York City.
The death of the corporate ladder.
The thought process behind their decision to leave their jobs and start their own businesses.
Finding their first clients.
What Tory and Jon and their companies do.
Narrowing their focus to things that they can work on remotely.
And much more!
Links and Resources from this episode:
THANK YOU!
Thank you very much for listening to the show! If you enjoyed listening, it has helped you in any way, or you know somebody else that would enjoy it, please share it using the social media buttons that you see on the page.
Additionally, reviews for the Sail Loot podcast on iTunes are extremely helpful and greatly appreciated! They do matter in the rankings of the show and I read each and every one!
Lastly, if you have any questions or comments please leave them below or go ahead and send us an email via the Contact page!
TeddyJ