Sail Loot Podcast 057: Lazy Geckos Water Conservation Lessons to Save Sailing Money
By
Teddy
on January 8, 2018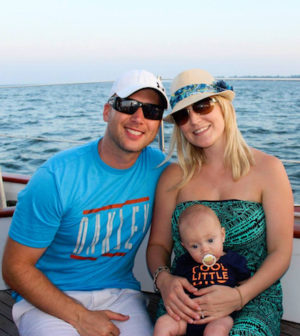 I had the honor of meeting Jeremiah and Brittany at the Strictly Sail Miami Boat show almost a year ago. By the way, I plan on attending again this year (2018). If you happen to live in the area and have a couch that you don't mind this sailor/podcaster crashing on for a long weekend…
We looked at boats, took shots at Hooters, and enjoyed our respective time in Miami. Finally, we were able to sit down for a chat this past November. Finally, I'm releasing that chat as a Sail Loot Podcast.
The Lazy Geckos story starts with the familiar desire to get out from behind a desk, yet, they also didn't want to be stuck sitting behind the wheel of an RV. They found that sailing might be the best option to keep everybody in the family happy.
Would they be able to keep children, pets, and themselves safe while traveling the waters on a sailboat? Of course!
From that point forward it was a question of how the Lazy Geckos would be able to afford the cruising lifestyle on retirement funds from the United States Marine Corps. As you'll hear, their answer was more about figuring out how to live simpler lives and not giving into the "see now buy now" commercialism mentality that plagues the majority of the world.
Jeremiah and Brittany share so many awesome tips about how they downsized, started saving money and got out of debt to start their sailing adventures!
Podcast: Play in new window | Download | Embed
Subscribe: Apple Podcasts | Android | RSS
A Few Things You'll Learn about Jeremiah, Brittany and S/V Lazy Gecko:
How the Marines helped inspire cruising life.
Brittany says "NO!" to riding around in an RV
Inspiration from Blogs and Vlogs
Sailing with a baby
Sailing with dogs
Getting out of debt
How they pinched pennies
Maximizing the money that they saved
Sailboat shopping
Purchasing Lazy Gecko
Sailboat insurance
Dealing with hurricanes
Learning to sail. Specifically, mastering docking
Setting sail and cruising around the East Coast
Vlogging and Patreon
Health insurance
Lazy Gecko is for sale and they're looking for their next Gecko
What they're doing now
And much more!
Links and Resources from this episode:
THANK YOU!
Thank you very much for listening to the show! If you enjoyed listening, it has helped you in any way, or you know somebody else that would enjoy it, please share it using the social media buttons that you see on the page.
Additionally, reviews for the Sail Loot podcast on iTunes are extremely helpful and greatly appreciated! They do matter in the rankings of the show and I read each and every one!
Lastly, if you have any questions or comments please leave them below or go ahead and send us an email via the Contact page!
TeddyJ